Photographing Artwork

It is absolutely necessary that you own photographs of your art. There are many ways to use these photos but I will discuss only how they are to be used to show others what your art looks like.

Can I take these photos myself?

Of course you can. Begin by thinking that you will eventuelly want two kind of photos but that you will be taking the first and most straight forward typ. These Step One photos are for your own use as documentation and as information. They are not going to be competing for picture of the year.

Step Two photos are technically advanced professional photos for use in newspapaers, magazines, for reproductions, posters etc. When an artist has come to this stage someone else will probably be arranging for this kind of photos. Jag will only be discussing Step One photos.

There are only two really reliable ways to achieve Step One photos; marry a photographer or learn to take them yourself.

In both cases the camera should always be loaded and easily reachable since you will want it to be really easy to take a picture. If possible easier to take a picture than to not take it. And it is always better to take it now than it is to wait untill you are quite sure the painting is "finished". It will cost very little to take another later on and nothing at all if you are using a digital camera.

Which Camera

A conventional camera with ordinary film is just fine as is a digital camera.

A digital camera delivers pictures directly into a computer or by way of a CD. Buy a digital kamera with the most pixels you feel you can afford but it doesn't have to be the most expensive one.

An ordinary 35-mm camera for film requires printing on paper. The print must then be scanned if they are to be used in a computer. Your photoshop can scan direktly from the film to a CD. I find that I can often do a better job at home since I can adjust for each picture individually. Scanners are faily inexpensive and mostly pretty good bet there are many steps in this process and you loose picture quality at every step.

An analog camera

Purchase a 35 mm reflex camera with a good quality lens. 70 to 90 mm is good but a "normal" 50 mm works too. A built in light meter is good. Other whistles and bells are not necessary. Camera stores used to have quality used cameras for sale for a fraction of the cost of a new camera. You can still find them on the internet. Even a 20-30 year old quality camera will normally have an extreemly good lens which will faithfully reproduce your art.

Digital cameras

Really cheap digital cameras will give you half sharp pictures but today there are many many really good ones. It is of course great to have a new camera full av helpful features which can be fun to use for other things.

Myself, I have a Nikon F70 with a 25-120 mm zoom and a positively ancient Nikon F2 with a 43-86 mm zoom. The old camera does just as good a job taking pictures of paintings as the new one but it is slower in many other situations so my new camera goes wherever I go.

Tripod

A tripod is helpful also. It doesn't have to be modern and fancy either since it just has to stand in the corner already adjusted for taking a quick photo under the same conditions as last time. But you can probably hand hold the camera is you don't have a tripod. Arrange a place to take your pictures or perhaps two places - one for summer weather and one for winter.

Where should I take my pictures?

In the summer the best place i outdoors in open shade. Fasten a shelf or brackets on the facade of your building (I prefer east or west facade) where you can set up your paintings one by one approximately at eye height. The background can be important to you if your photos are to be placed in an album and shown to gallery owners. In this case a painted plywood background - dark gray or black - could be placed behind the painting.

If the background won't be seen, the best choice is neutral gray. A colored background can affect your camera's auto exposure. Also, a neutral gray can be used to color correct easily in the computer (Photoshop).

Use ordinary "film for color prints" if you choose an ordinary camera. In the winter use 400 ASA film but in the summer choose 100 or not more than 200 ASA.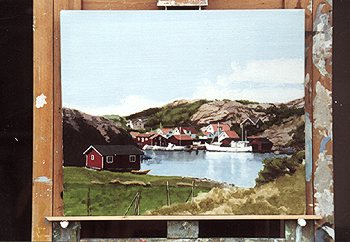 Sven-Åke Svenson sometimes takes an easel outdoors when he takes pictures of his paintings.

Which film and photo papper?

Kodak and Fuji film reproduce colors somewhat differently. In my experience Kodak gives sky colors that are all together too blue while Fuji has problems with delicate pinks. There are other films on the market also. Make a trial sometime to find the "look" which suits your art best. Photograph the same paintings with two different films and make a decision. If you paint outdoor scenes check the greens a little extra. Photos that will be used in a computer kan be manipulated in Photoshop or PaintShop so all is not lost even if your photo is a little bit off.

Find a photo store that develops films that you trust and give them a little time to do the job right. For best possible results see to it that your store uses the same make of fotopaper as the film you used.

Photograph outdoor or indoors?

Why should you take your photos outdoors? Because the lighting indoors is not adapted to your film unless you find special professional film. Everything will be a nice shade of yellow. Flash lighting is much better but there will often be problems with reflections on the surface of the painting. Take pictures outdoor more or less in the "middle" of the day. Early morning and late afternoon light will also affect colors adversely.

Choosing an exposure

Let the camera choose the exposure. You will be taking pictures prefer to choose the exposure youself see to it that the aperature is F7.1 or higher for sharp pictures and at least 1/50 of a second if there is a chance you might not hold the camera completely still.


Aim the camera at the center

When you take pictures of a painting you must hold the camera exactly parallell with the painting and the lens right in the middle.
Do not aim from the side, from above or below. Check that the paintings edges are all parallel with the edges of the viewfinder.
The idea is to see to it that the painting looks square and not distorted.
Complement you pictures with some relaxed views at exhibitions and in your studio but be very strikt with your documentary pictures of paintings.

Taking pictures indoors

In the winter you may want to take photos indoors if you can arrange enough natural light. This is what I do. I have a white closet door which I lift off and lean against my kitchen wall att 90 degrees to a big east facing window. This works best on a sunny morning but I don't allow direct sunlight on the picture. Especially oil paintings can show shadows around areas of thick paint.
If there is snow on the ground outside the light reflected into the house will be much brighter and you may not have to wait for a sunny day to take your pictures.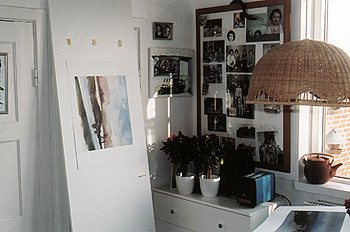 I sometimes use a white closet door as background

Kopior och lagring

När du lämnar in filmen kostar gärna på dig dubbla kopior. Behöver du låna ut så få som ett par av bilderna på rullen känner du båda pengar och tid på att ha en extra omgång kopior. Lagra bilderna gärna i en album med plastfickor så du kan ta ut dem ifall du vill göra en special samling någon gång.

Skriv gärna ett datum och bildtitel på baksidan men gör det mycket försiktigt med en liten (permanent) tuschpenna som inte kräver att du "gravera" ytan så att det syns på framsidan efteråt. Använd inte kulspetspennor. Du måste också ge varje baksida en chans att torka ordentligt så att trycksvärtan inte avsätter sig på nästa bild under lagringstiden. Jag använder hellre gula stick-på lappar av den typ som man kan lätt ta bort eller flytta på och jag skriver med blyerts.

Vad ska jag ha bilderna till

Denna text blev ganska lång med tanke på hur lätt det är att snabbt och lätt ta en bild - i varje fall när man har fått lite rutin på jobbet. Dina fotos kan nu användas som hjälpmedel när du visar ditt arbete för en prospektiv utställare, när du sätter ihop en vernissagekort, kanske en liten annons eller att lägga upp en webbsida.

Alla dessa saker måste du kunna göra eller få gjort om du vill bedriva en konstnärsverksamhet som leder till utställningar och till försäljning av dina verk. Du blir helt enkelt inte tagen på allvar om du inte kan visa upp ditt arbete i en "affärs sammanhang". Kom ihåg att här är åskådaren inte är en konstkritiker, inte heller en prospektiv köpare utan en person som driver en verksamhet, galleri, reklambyrå, tryckeri, eller liknande som han/hon vill sköta på bästa sätt.

Nedanför finns länkar till sajter som har råd att ge - nästan alla på engelska.

http://www.adobe.se/print/features/smithsonian/main.html
http://www.cjmorgan.com/articles-for-artists/
http://www.canadian-artist.com/PhotoTips.html
http://www.garryblack.com/ask07.htm
http://members.aol.com/thedrawing/photograph.htm
http://bermangraphics.com/artshows/photographart.htm
http://www.betterphoto.com/exploring/shootingPaintings.php
http://www.itsallcreative.com/photo.html
http://www.joemjoe.com/pclass1.htm

©Ann Thulin